We have chosen our breeding pairs for the quality of puppies that they will produce. Until that moment of their birth we make our predictions...Then it happens and the wonder and beauty before you in patterns, markings and color changes it all into a wonderful surprise.

During a birth we are always there to welcome them into the world, one where they will be nurtured and loved. The first thing we notice is how adorable they are. We always give them our own nicknames. We do this because it is a personal way of communicating about them between ourselves and with others. It is also fun to do!

Sometimes it is easy: What would you name her?


Our adult Schnauzers are our family pets; they live inside where they are pampered, spoiled and loved. We are proud of them and their puppies. We breed for the rich shades of Chocolate (Liver) color as well as for the unique beautiful patterns of color in our Parti's. The Black with White markings are also one of our favorites.

I love taking photos and the puppies can be challenging for me to get the perfect picture, especially when it is one I am taking of the litter.

Sometimes that's not so easy:



Once Mom is finished with cleaning up after them, the real work for us begins! Puppies catch on quickly to eating food and sometimes climb right in the dish!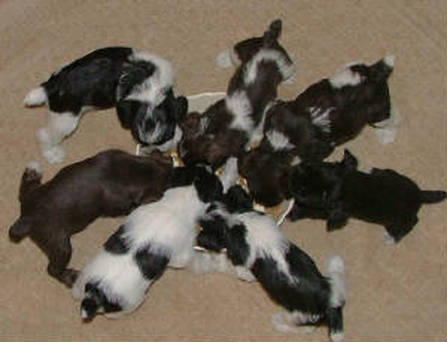 Destiny Blooms"Dinner Time" AKC Parti's in Black & White and Chocolate & White, Chocolate and Black!
We like to stay in touch with their new families and they occasionally send us pictures as they grow into beautiful adults.